So, you've heard about our brand new referral program and want to get some free time with Le VPN - but you're not sure how...
Fortunately, the refer a friend process is easier than ever. Just follow these steps, and you'll get free VPN time quicker than you can say "internet freedom!"
Get your referral code (client area)

1) Head to the main dashboard of your client area.

2) On your profile page, you'll find your active VPN account details and a large yellow button labelled "Invite a Friend."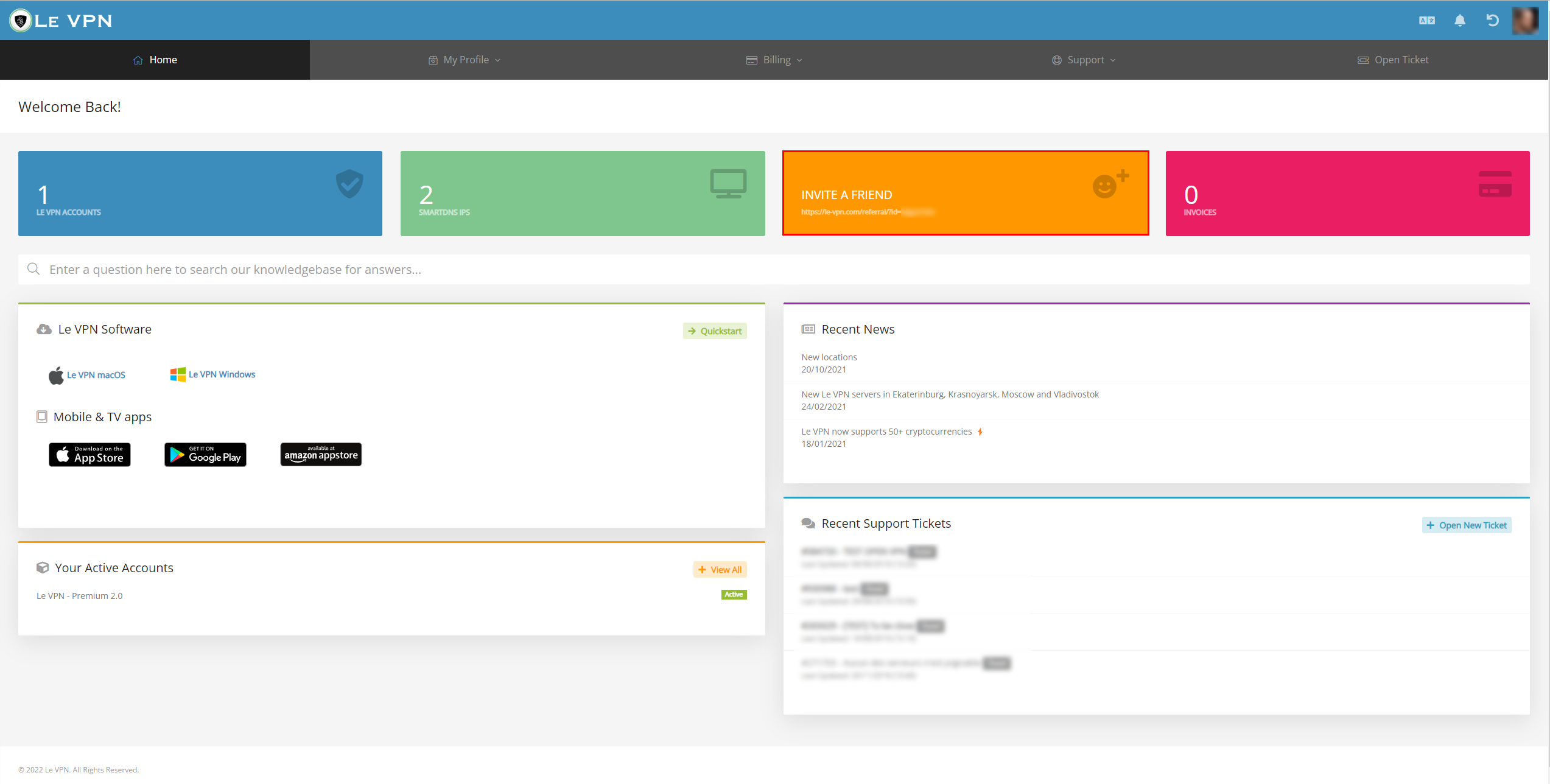 3) Selecting the invitation button will copy your personalized referral link to your clipboard.


4) We've prepared a handy message to accompany your referral link, so all you have to do is share it with your friends! WhatsApp, Telegram, Messenger, you choose how you'd like to share it.

5) When your friend signs up for a plan with Le VPN, we'll validate it, and you'll both get one month free!

Simple huh?
---
Get your referral code (iOS and Android)

Want to invite your friends without firing up your laptop? No problem! You can also get your referral details directly from your iOS or Android Le VPN app.
Follow these simple steps and get rewarded:

1) Download Le VPN for iOS or Android from your device app store if you haven't already.

2) Log in to the app using your credentials provided during registration for Le VPN (these are different from your client login details).

3) Tap the hamburger menu at the top-left of the app screen and select the "invite a friend" option.

4) Tap the blue "share" button to get your personalized referral link.

5) Share with your friends via text, Telegram, or postcard - whichever ticks the box.

6) If your friend completes Le VPN's registration as a new subscriber, we'll credit you both with 1 month of free VPN time!
Note: if you pay for Le VPN via Paypal, Android, or iOS, you'll need to cancel your membership once we've issued your free month. After the free time is up, you'll need to reinstate your payment method to avoid losing VPN access.
If you need any further assistance, please contact us via Live Chat or submit a ticket to our support team.